NGI

/

News

/

NGI awarded major geoscience and geotechnical engineering contract for Morgan, Mona and Morven offshore wind farm projects
NGI awarded major geoscience and geotechnical engineering contract for Morgan, Mona and Morven offshore wind farm projects
The Norwegian Geotechnical Institute (NGI) is pleased to announce it has secured a significant contract from the EnBW and bp Joint Venture (JV) for the Morgan, Mona, and Morven offshore wind farms for delivery of geo-consulting and laboratory testing services.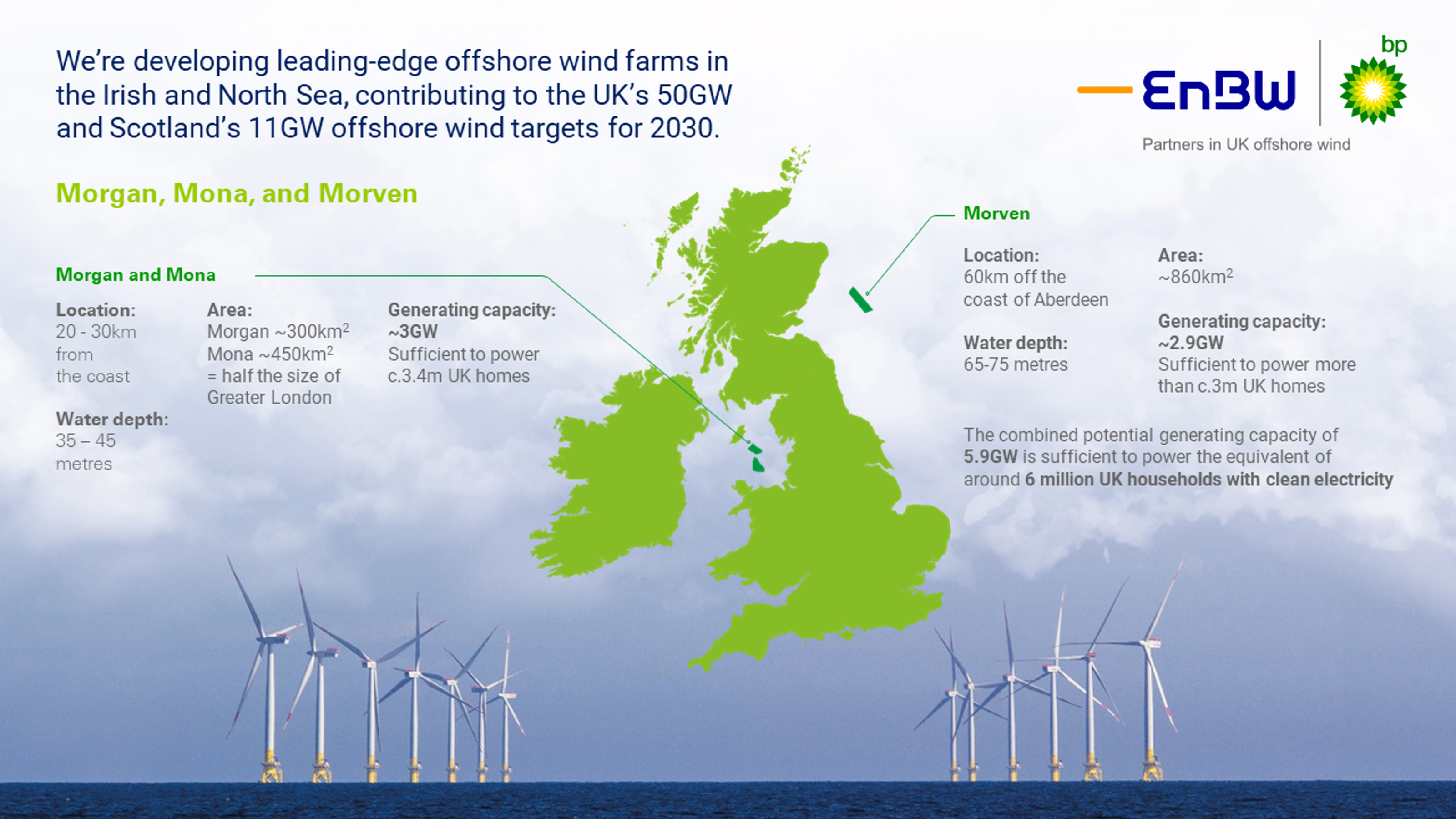 Morgan, Mona, and Morven offshore windfarms - EnBW and bp Joint Venture ( Illustration: BP International Limited)
The Morgan and Mona project sites are located in the Irish Sea, approximately 30 km from the coast of England/Wales. With a combined area of about 800 km2, they have a potential installed capacity of up to 3 GW. Once completed, the two offshore wind farms are expected to produce enough electricity to power the equivalent of around 3.4 million UK households.
The Morven site, located in the North Sea approximately 60 km from the coast of Scotland, covers a similar area. It has the potential to have an installed capacity of up to 3 GW, which is expected to generate enough to power the equivalent of around 3 million UK homes.
Over the coming years, NGI will provide geoscience and geotechnical engineering services for the three wind farms through various project phases. This includes integrated ground model development, survey planning and supervision, and extensive advanced laboratory testing followed by interpretation of data for engineering design.
Coupled with ongoing foundation screening and optimisation studies for the Morgan and Mona projects, NGI are using streamlined data-driven solutions developed to meet the growing demands of the offshore wind industry. This approach allows us to pull additional value from the geodata stream through the project life cycle, which is crucial to allow efficient decision-making in line with the JV's ambitious schedule.
NGI will be supported by GEO for delivery of a comprehensive soil and rock laboratory testing program, capitalising on their combined expertise in material characterisation. NGI will also continue their successful collaboration with SAND Geophysics (SAND) and the British Geological Survey (BGS) as part of this project. Together, NGI and its partners will seek to maximise the potential of all geodata types within the project workflow.
Richard Haydock, Programme Director at bp said " We are delighted to have NGI on board for our Morgan, Mona, and Morven projects. Our projects have a combined potential generating capacity of 5.9 GW which we estimate is sufficient to power the equivalent of around 6 million UK households. NGI's work in helping us to reduce uncertainties related to foundation design plays an important role in helping us together with EnBW deliver this to the UK."
Burkhard Römhild, Project Director at EnBW said: "Given the inhomogeneous Irish Sea geology we appreciate the work and expertise of NGI to provide essential input data for our foundation design. This will be instrumental in designing the best foundation solution as part of the overall windfarm design on our way to contributing to Britain's ambitious offshore wind growth targets."
Thomas Langford, Director for Offshore Energy at NGI, expressed his excitement about this award, saying, "We value the trust EnBW and bp have shown NGI for delivering these landmark projects around the UK. This partnership represents an important step for NGI as part of our strategy to support the acceleration of the energy transition through leveraging enabling technologies together with the industry. We are delighted to work closely together with this forward-thinking joint venture, who have demonstrated an enthusiasm for innovation to bring results from the survey and testing campaigns more rapidly into play through integration of geology, geophysics and geotechnics."