NGI

/

Seabed investigations
Seabed investigations

There is a great need for reliable, relevant data about ground conditions to assess and plan potential offshore field developments. Since offshore ground construction work cannot be carried out where the installations are to be located, extensive data acquisition is required in the area affected and far down beneath the seafloor.
Specialized expertise in offshore site investigations
planning of offshore site investigations
interpretation of geophysical data, in situ, and laboratory tests
understanding of soil behavior
selection of design parameters for foundation engineering and geohazard problems
Since the start of Norwegian oil and gas activities, NGI has built comprehensive expertise in offshore site investigations and foundation engineering. This includes very different types of soil found worldwide, such as soft and firm clay, silt, sand, lime, calcareous sand, glauconite sand, mica sand, and shale, to name a few.
In addition to marine geological information, available geophysical data are used to plan the investigations. Such investigations consist of drilling and sampling and in situ testing (penetrating probes into the seabed) from specially designed drilling vessels.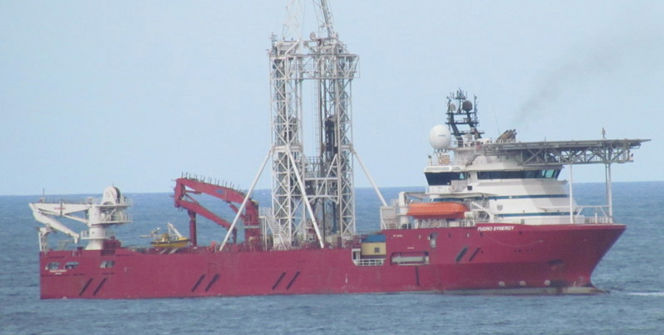 Fugro Synnergy drill ship for offshore soil investigations (Photo: Fugro)
Laboratory tests - extensive capacity
Laboratory tests on retrieved samples are a very important part of the work. NGI has a large lab capacity, modern accredited geotechnical laboratories in Oslo and Houston, and personnel with extensive expertise and experience.
During 2023, NGI will also open a geotechnical laboratory in Perth, Western Australia.
Research and development
NGI's current challenges and research in offshore site investigations and design parameters are concerned with
interpreting in situ tests in very soft sediments in deep water
assessing sample disturbances by measuring shear wave velocity and sample suction
correlations between index parameters and design parameters
the effect of temperature on laboratory measurements: significant both for sediments in deep water and for Arctic conditions
site investigation strategy for ultra-deepwater (>3000 m)
Development of international standards
NGI participates actively in developing international standards and guidelines for site investigations and laboratory testing based on new knowledge from its own experience and R&D.
Technology transfer to the offshore industry
NGI contributes to international classes in the subject and offers technology transfer programs to the offshore industry.