NGI

/

Construction methods
Construction methods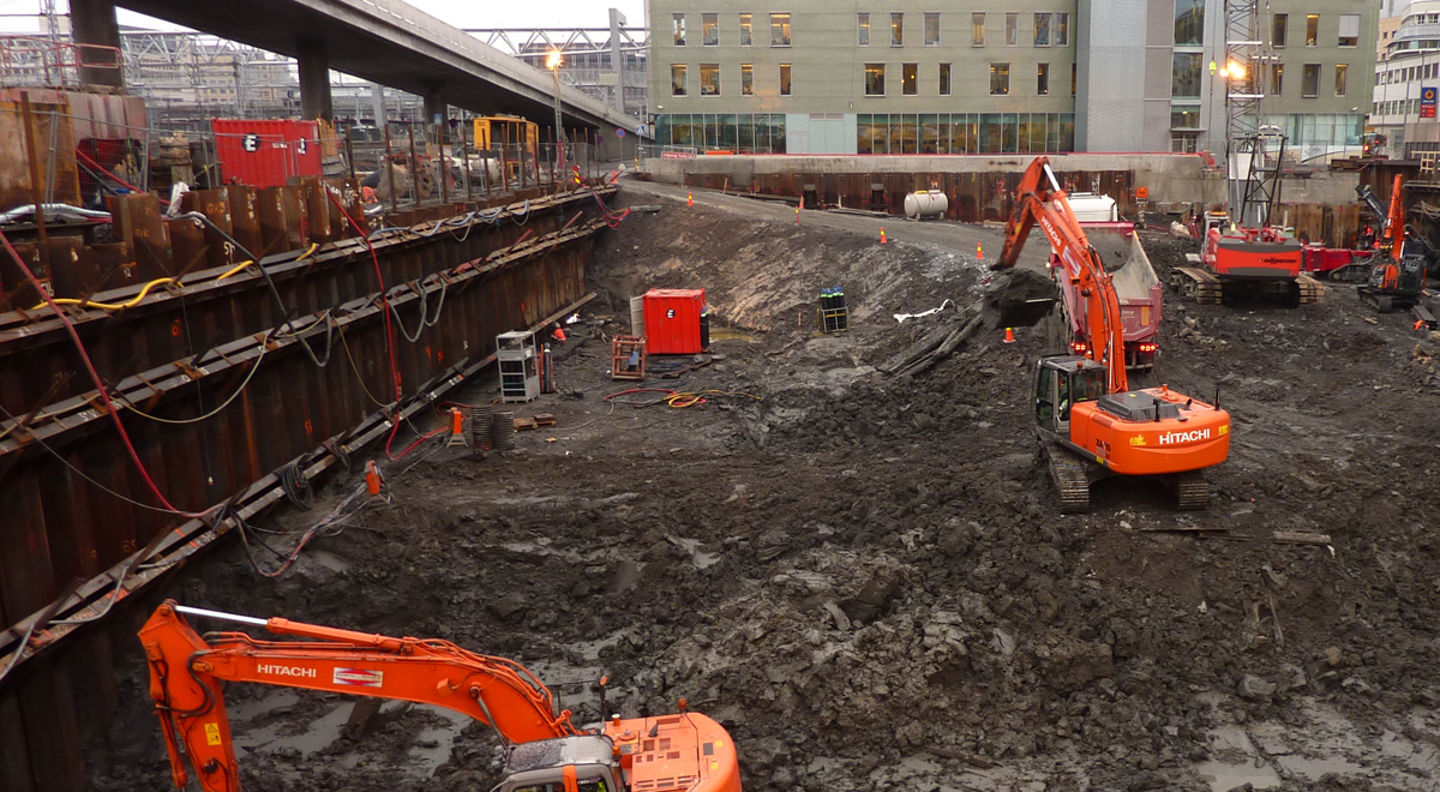 The execution of groundworks requires knowledge and planning to enable the work to proceed safely and efficiently. A good construction plan for the different phases, including appropriate geotechnical design, ensures good progress and economy in the initial phases of large building and construction projects.
Large building and infrastructure projects often have many intermediate phases, which also need engineering design and geotechnical solutions to be executed safely, efficiently, and economically in a limited space. Phase plans for temporary traffic redirection or measures for loading and transporting spoil from deep, constricted construction pits may require extensive geotechnical planning and engineering design and may be expensive to implement.
Lime cement piles for stabilizing capping layers or site roads or lightweight material such as foam plastic as temporary infill for accommodating height differences in weak soils are temporary measures for enhancing construction site productivity in the early phases.
Applying infill or covering of landfill and contaminated soil requires monitoring and inspecting soils, layer thicknesses, and compression. This applies to work both on land and underwater. NGI has long experience in preparing technical descriptions, drawing up inspection plans, and monitoring geotechnical engineering works such as sheet piling, column piling, bracing, compression, excavation, and sorting of contaminated soil in complicated phases of the construction work and ensuring that the work is documented by the contract.
Silt curtains and turbidity monitoring may protect the surrounding areas when infilling at sea. Large construction pits may have a draining effect on neighboring areas, which in turn will cause subsidence. As a countermeasure, pore pressure gauges and infiltration wells can be installed, and the measurements taken and monitored online. This allows for a rapid response with mitigation measures, a welcome reassurance for construction pit neighbors.
Specialist expertise
engineering design of construction pit protection and robust temporary measures for the implementation of the construction phase
instrumentation and monitoring of deformations, pore pressure, and loads, thus ensuring rapid response, good documentation, and opportunities for recalculating and improving the engineering design basis
understanding of execution and requirements for equipment, materials, and space requirements
Research and development
together with a working group of many different contractors, consultants, and clients, NGI has conducted extensive research into geotechnical construction problems such as drainage and subsidence around construction pits and low-impact drilling methods for braces and piles in the "BegrensSkade" project. (link)
the research effort is also directed to instrumentation and test loading of piles, bracing load gauges and deformation in sheet piling, dynamic pile analyses (PDA), pore pressure development in the case of pile and infill work, and modeling of the spread of contamination along trench lines and other types of
layers of open materials applied to the ground