Rock engineering

The construction of tunnels and rock spaces in connection with transport, hydropower development, and other infrastructure has made the Norwegian professional environment, of which NGI is a part, a world leader in engineering geology and rock engineering.
Services
engineering geological mapping
core logging
rock mass classification
stress measurement (hydraulic fracturing)
laboratory and model experiments
numerical analyzes (UDEC, FLAC, Phase2, etc.)
dimensioning of rock protection
injection scheme
requirements for infiltration in tunnels and caverns
foundations of suspension bridges
rock technical follow-up in tunnels, rock rooms, and cuttings
Top expertise
material properties of fractured rock
modeling of rock masses
rock classification and protection needs (the Q system)
Rock engineering requires knowledge of the properties of the rock mass. Through expertise in general geology, engineering geology, rock mechanics, geotechnics, and hydrogeology, we can make assessments and plan and design the development of tunnels, rock spaces, mountain slopes, and rock foundations.
In addition to unique expertise as a developer of the Q system, one of the world's best-known methods for classifying rock masses and safeguarding needs, NGI has extensive expertise in using other classification methods.
We have leading expertise in using advanced analysis models for rock masses, where deformations, stresses, water flow, and the effect of various security measures are calculated.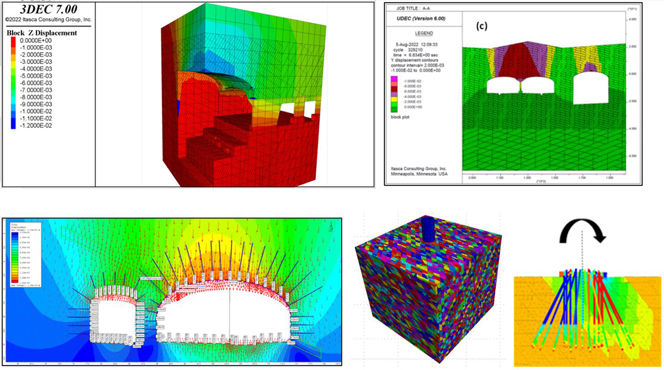 Analysis of rock stress and deformation from rock blasting and rock cavern construction
Research and development
The research efforts at NGI within engineering geology and rock engineering are concentrated on the following topics:
verification of heavy rock support
verification and documentation of tunnel stability
challenges related to black shale