NGI

/

Offshore geohazards
Offshore geohazards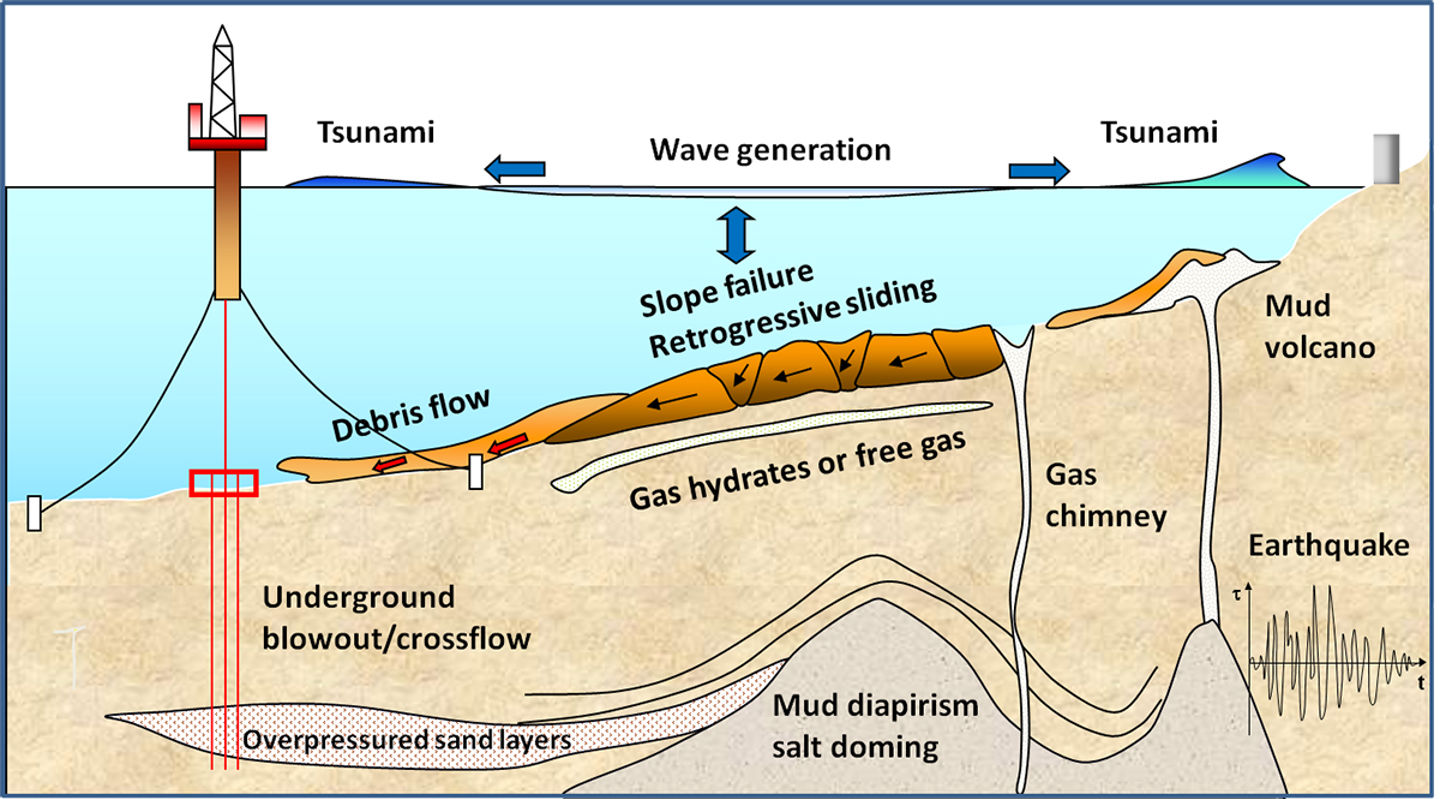 NGI is internationally recognized for its geohazards expertise. We have project experience from around the globe, from onshore and coastal areas to deep water frontier locations. NGI has been at the forefront of developments in the offshore industry.
Our expertise covers the full range of services from identification of the hazards, estimating the hazard potential within the lifetime of a project and assessment of the consequences (e.g., impact on infrastructure, tsunami generation, etc.). In addition to offshore geohazards, NGI also has significant and complementary onshore geohazard and georisk assessment experience, where we provide applied research and consulting services to the business sector, landowners and authorities.
NGI's offshore geohazard assessment aims at covering the entire sub-surface between the shallow seabed down to reservoir levels, including (but not limited to):
submarine and coastal slope failures
debris flows and turbidity currents
shallow gas and gas expulsion features
gas hydrates
mud Volcanos
seismicity
drilling hazards
overpressure zones
geomechanical characterization
fault and fracture geomechanics
injection issues (including CO2).

NGI also designs novel technologies for in situ measurements and geohazard monitoring purposes.
Typical clients
In Norway, NGI provides advice and guidance to developers and Norwegian authorities. Globally, NGI also carries out projects for stakeholders on all continents, including the World Bank and the U.N.
In recognition of NGI's expertise in geohazards, the Research Council of Norway awarded NGI one of the first Norwegian Centres of Excellence, the International Centre for Geohazards (ICG) between 2003 and 2012. The purpose of this centre was to perform research in the area of assessment, prevention and mitigation of geohazards in collaboration with world leading international research groups in any sector (i.e. both onshore and offshore).
Key marine geohazard expertise:
Integrated Geoscience studies: Marine Geology, Geophysics (seismics, EM, gravity), Geotechnics, Geomechanics
Static and dynamic submarine slope stability assessment (deterministic, probabilistic)
Landslide dynamics and run-out simulations (including probabilistic approach)
Earthquake engineering
Instrumentation and monitoring
Numerical simulations
Tsunami generation from submarine landslides, rock slides and earthquakes
Implications for field architecture: cable and pipeline routing, drill centre locations, etc.
Fluid migration phenomena (gas, diapirs, mud volcanoes, shallow water flows, …)
Gas hydrates: presence, stability, thermal effects of production along wells
Advanced laboratory testing
Pore pressure assessment
Quantitative seismic interpretation
Injection and CCS (carbon capture and storage).