The NGTS research consortium is led by NGI and includes NTNU, SINTEF/UNIS and the Norwegian Public Roads Administration. The test sites will be used as field laboratories for development, testing and verification of new innovative methods for site investigations and testing procedures. The five test sites have been chosen as representative for specific soil types which include:
soft clay
quick clay
silt
sand
permafrost (frozen soil)
Due to the growing interest for construction and energy solutions in arctic conditions, one of the test sites will be established in permafrost, where soil sampling, in-situ testing and laboratory investigations of frozen soil material are very challenging.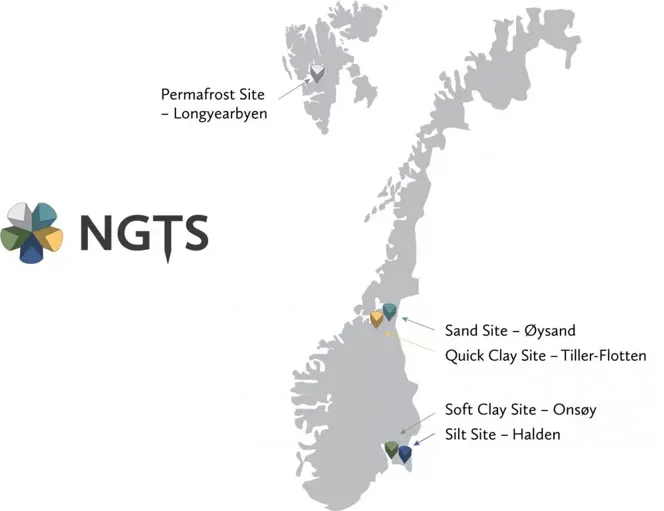 Test sites to Reference areas
At the end of the project period the test sites will be used as reference areas ("benchmark") which can be used by industry, federal and private developers, research institutes and academia. Data generated at the test sites will be available for use to develop and improve geotechnical and foundation engineering methods and advance the state-of-the-art expertise. The operating phase for the referance areas will be 20 years.
The research project Norwegian Geo-Test Sites (NGTS) will have a national character, with comprehensive cooperation between the Norwegian geotechnical engineering community. NGTS will also have wide and extended cooperation with leading international geotechnical expertise. Establishment of NGTS is necessary to be able to develop more cost effective and sustainable solutions for the building, construction and transportation industries and the energy sector, and to reduce the risk caused by climate change, floods and landslides.
Infrastructures, such as bridges, harbours, roads, railways, drinking water and sewage facilities, pylons, pipelines etc. may collapse or fail due to extreme weather. Challenging soil conditions will often be the cause of deterioration of such infrastructures. Improved geotechnical knowledge and improved design criteria will contribute to reduce the steadily increasing maintenance costs.
For NGTS to succeed, it will require:
Investment in new sampling and field equipment
Thorough and comprehensive investigation and studies of material properties of the different soils
Development and testing of new and improved equipment
New testing prosedures.
International network
The research consortium will initiate an "International Geo-Test Sites Network", where Norwegian participants will get access to international test sites and quality controlled and assured data.Through the network and exchange of know-how, Norwegian participants will have access to first hand knowledge about equipment and new methods developed by leading international research centers.
Datamap access
You can access all NGTS data following two steps. First, please register with the system at http://www.geocalcs.com/datamap by creating a user name and password. Once logged in, the you can navigate to the "Join Project" tab by first clicking the "My Projects" link in the upper right-hand corner of the map viewing screen. They then, must enter the details in the table below and click on the "Join Project" button. Users can then navigate back to the Map view by clicking a link in the upper right corner.
Access codes and project names to access data from the Australian and Norwegian geotechnical research sites in the Datamap application.