Avalanche research contributes, among other things, to improving avalanche warning and better securing and planning homes, railway lines, and roads. Many years can pass between major avalanche winters. Still, the avalanche accident in Longyearbyen in December 2015 that moved several houses and the major accident that destroyed the entire Rigopiano hotel in Italy in 2017 remind us that avalanches are still a challenge not only for outdoor enthusiasts but also for social security.
Statistically, two houses or cabins in Norway are damaged or destroyed by avalanches per year. Our aim is that the research should contribute to us being safe in our houses, at work, and when we travel. We are concerned that the research should be applicable, especially for social security and infrastructure.
The avalanche research station in Strynefjellet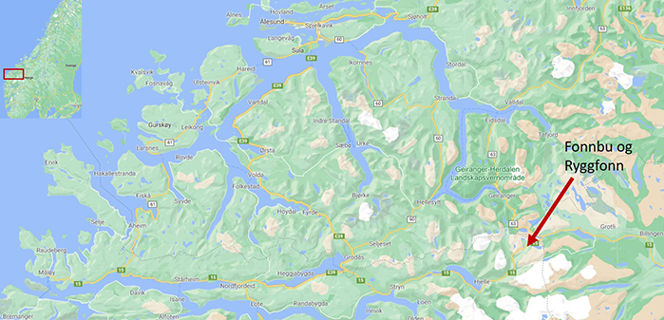 Map of Sunnmøre in Møre and Romsdal, Western Norway (top left) and locations for Fonnbu and Ryggfonn in Strynefjellet (red arrow)
Since the 1970s, NGI has run the Fonnbu research station and full-scale experiments for avalanches in Ryggfonn in Strynefjellet. Here we have unique opportunities to observe and study, among other things, speeds and pressures in actual avalanches in relatively controlled forms.
The results enable us to study and learn more about how far avalanches travel, what forces are at play, and, in particular, how avalanches behave and what forces are involved when avalanches hit a power mast, a power line, a car, or an embankment.
These results have been significant for hazard zone mapping and the design and engineering of protection against avalanches.

Fonnbu, on the left, and Ryggfonn seen from the air, with avalanches approaching the 15-meter high embankment at the bottom of the avalanche path
International Cooperation
Our full-scale test field at Ryggfonn is unique worldwide. It provides opportunities to study trigger factors, avalanche dynamics, and the effects of the catching dam in the avalanche channel's run-out area.
The test field has provided many significant results, which are presented in international publications and conferences.
Collaboration with researchers from other countries, and especially with the SLF, which has a test field in Vallée de la Sionne in Switzerland, has contributed to vital exchanges of ideas and data, ensuring that the development of avalanche models can take into account the results from multiple avalanche paths with different climatic conditions.
Local knowledge and experience
To assess the causal relationship and degree of avalanche risk, experts must procure information on snow cover, terrain formation (topography), and meteorological conditions in the relevant area, historically and in future forecasts. The structure and variation of the snow cover are observed and classified following standardized tests. Much work is done at Fonnbu, NGI's avalanche station in Strynefjellet, near Ryggfonn.
Observations of innumerable avalanches over the years, studies of the relationships between snow cover structure, meteorological data, and types of terrain form the basis of NGI's development of methods, and not least, experience in assessing avalanche risk, the run-out distance of potential avalanches and the design of avalanche safety methods.