NGI

/

News

/

NGI and Cegal Partner to Advance Carbon Capture and Storage Technologies for a Net-Zero Emission Future
NGI and Cegal Partner to Advance Carbon Capture and Storage Technologies for a Net-Zero Emission Future
Norwegian tech company Cegal and Norwegian Geotechnical Institute (NGI) are proud to announce a strategic partnership to advance carbon capture and storage technologies to achieve a net-zero emission future. The partnership combines Cegal's proficiency in digital solutions and data management for the energy industry with NGI's geoscientific expertise.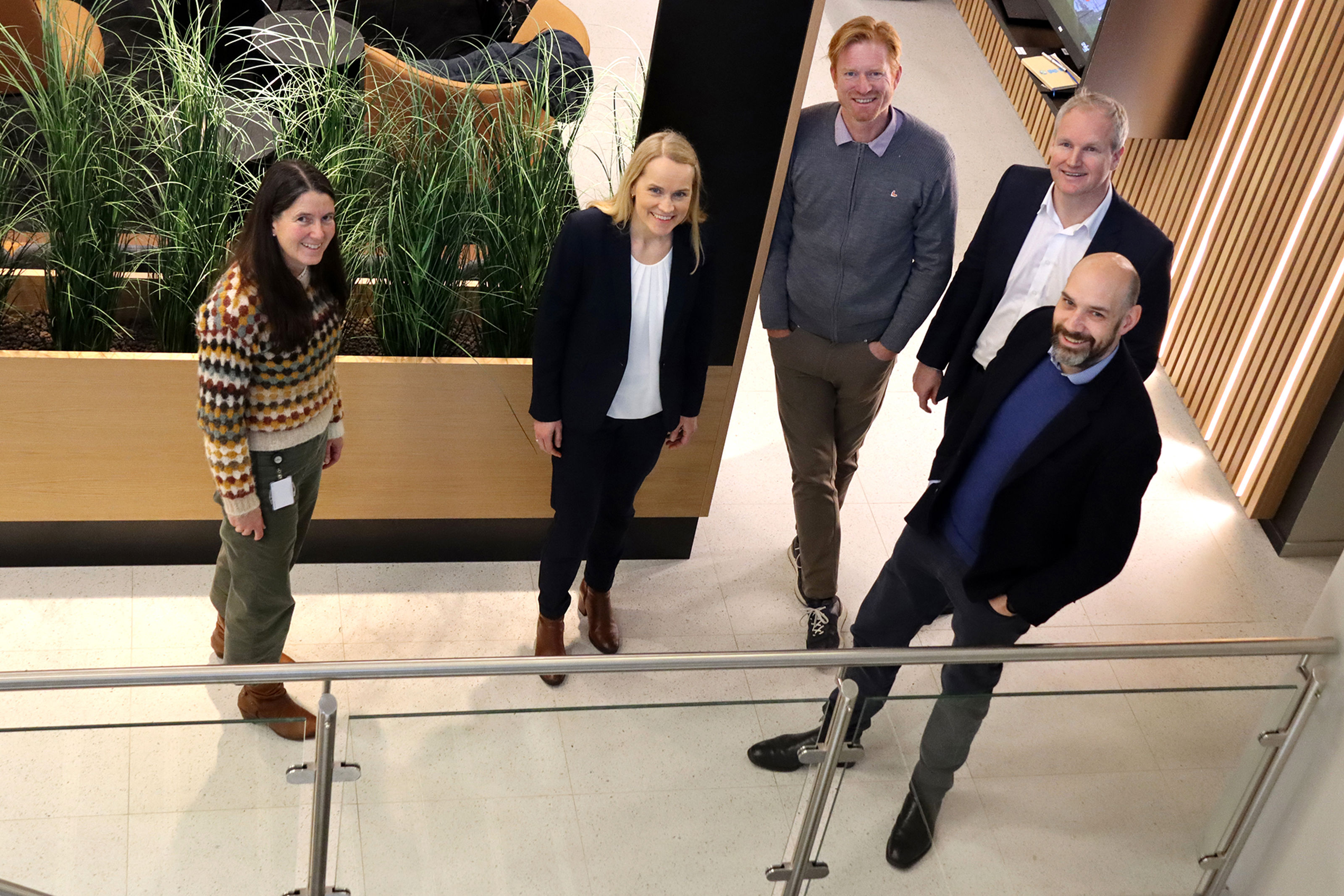 Elin Skurtveit (research manager CCS, NGI), Kersti Ekeland Bjurstrøm (Chief Product Officer, Cegal), Kristoffer Norborg (Global Business Development Manager, Cegal), Dagfinn Ringaas (CEO, Cegal) and Thomas Langford (director offshore energy, NGI). Photo: NGI.
"Cegal has long experience with, and a proven track record for developing technology to provide energy companies with complete control over energy quantities regardless of the sources - oil, gas, electricity. Our know-how can easily be further developed for carbon capture and storage. Simply put, carbon storage reverses the upstream process in oil and gas production," says Dagfinn Ringaas, CEO of Cegal.
Carbon Capture and Storage (CCS) is a vital technology for reducing greenhouse gas emissions and mitigating the impacts of climate change. It entails capturing carbon dioxide (CO2) emissions from significant sources, such as power plants and industrial facilities, and storing them underground in geological formations.
Through this new partnership, NGI and Cegal will collaborate on research and development of carbon storage technologies and explore potential business opportunities in the field. NGI will contribute with its unique insight and experience within reservoir geology, geomechanics, and geophysics, while Cegal will provide expertise in software to simplify today's CCS subsurface workflows.
Cegal has developed subsurface software for the energy business over the last 20 years, including industry standards in oil and gas. This software is presently used better to understand the storage capacity for CO2 in the subsurface. Together with a strong consulting team with domain understanding, this creates value by speeding up the work and de-risk the subsurface storage.
NGI has, over the last 15 years, been involved in developing new tools and knowledge for the safe and efficient storing of CO2 in the subsurface. New knowledge addressing seal integrity for CO2 storage is ready to be implemented in industrial tools and workflows. Collaboration between researchers and established software developers is a step forward for the efficient characterization and development of CO2 storage sites in the industry and worldwide.
Lars Andresen, CEO of NGI, says: "We are thrilled to partner with Cegal to advance carbon storage technologies and promote a net-zero emission future. NGI has a long history of working on environmental issues, and we believe that CCS has the potential to play a significant role in reducing greenhouse gas emissions. We look forward to collaborating with Cegal and exploring this partnership's opportunities."
Dagfinn Ringaas, CEO of Cegal, adds: "Our vision is to build a stellar nextgen tech company contributing to a more sustainable future. We believe that CCS will be a critical component to that contribution. We are pleased to partner with NGI, a leader in geotechnical engineering and applied geosciences, to advance CCS technologies and drive the energy industry towards a more sustainable future."
This partnership represents a significant step towards achieving a net-zero emission future and demonstrates the commitment from both NGI and Cegal to reducing greenhouse gas emissions and promoting sustainable development.
About NGI:
The Norwegian Geotechnical Institute (NGI) is a leading research institute in the field of geotechnical engineering and applied geosciences, with a focus on soil and rock mechanics, geophysics, and environmental science. NGI conducts research, development, and consulting services for the offshore energy, construction, and environmental sectors, among others.
Read more at: www.ngi.no
About Cegal:
Cegal's vision is to build a stellar nextgen tech company that enables a more sustainable future by turning complex IT into digital success stories. We shape the digital future by delivering modern industrial software, world-class consulting services, and business-critical cloud operations. With 950+ employees in nine countries, we are growing to become a leading global technology powerhouse for the energy industry and a contributor to the green transition.
Read more at: www.cegal.com