Background
NGI initiated a three-year (2011-2013) research programme with focus on geotechnical issues specific to the offshore wind energy sector. This research programme concentrated on advancing the current state of knowledge in the areas of site characterisation, geotechnical design and monitoring of offshore wind turbine foundations.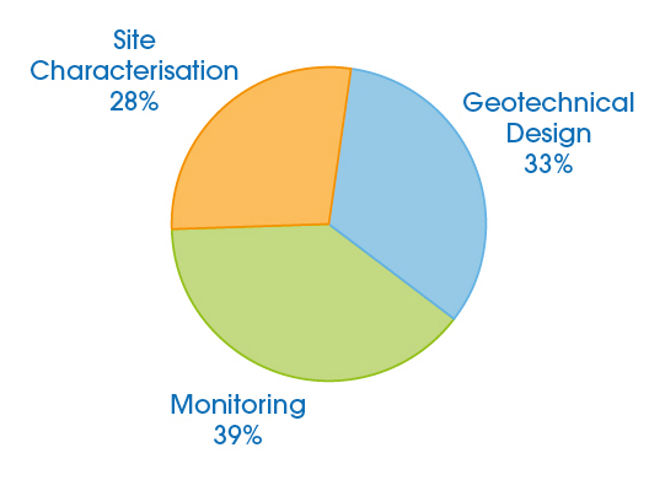 NGI involvement with offshore wind Projects

With the greater emphasis placed on the development of renewable energy in recent years, NGI has experienced a significant increase in work for offshore wind farm projects.
The nature of NGI's offshore wind activities can be roughly equally split into areas of site characterisation, geotechnical design and monitoring.
Offshore wind farms and the turbine structures themselves present particular geotechnical challenges, which include:
site characterisation of large offshore areas (up to approximately 8 500 km2) and associated spatial variability in geotechnical conditions
the loading scenarios for geotechnical design of the foundations differ to those for other types of offshore structures
foundation stiffness is important since the turbines are sensitive to motions as well as their frequency
the level of industry experience with different foundation types varies
the long-term behaviour of the different foundations is largely unproven
there are uncertainties in the application of standard design approaches to some foundation types
the foundations are a significant part of the overall structure cost, raising the prominence of the foundation design in the project
given the large number of foundations to be installed, robust designs and efficient installation procedures are required
environmental and code verification requirements may influence the chosen foundation design
Outline of research
The focus of the research programme was to:
identify areas where geotechnical-related research and development would be of benefit for offshore wind turbine foundations
based on existing knowledge, improve existing methodologies and/or develop new techniques, focusing on the areas of site characterisation, geotechnical design and monitoring
where possible, adopt an integrated approach to the research in conjunction with industry.
Research methodology
NGI's approach to this research programme is based on over 40 years' experience with foundations for offshore structures. In this respect, it is important to note that the change in focus from the design and construction of a foundation for a single, large offshore structure, such as an oil and gas platform, to the foundations for an offshore wind farm, is much like the shift from bespoke, or tailor-made engineering, towards mass production.
The research methodology has concentrated on filling gaps in the existing knowledge base identified from the particular geotechnical challenges highlighted for offshore wind turbine foundations.
Research areas with subtopics