– From 28 February we are looking forward to welcoming employees, partners and other visitors to the refurbished, temporary premises in Nydalen, says Managing Director of NGI, Lars Andresen.
Moving and reestablishing labs and specialist rooms
NGI, an independent, international centre for research, development and consulting in the field of engineering-related geosciences, currently has laboratories, a trial hall for model experiments and other technical research infrastructure in Sognsveien.
– The laboratories, where geotechnical, rock mechanics and environmental geotechnical studies are carried out, are the foundation of our activities. The laboratories are used for a wide range of socially beneficial tasks, such as surveying quick clay, groundwork for offshore wind structures and surveying contaminated ground. It is therefore very important to us to move and re-establish these activities in Sandakerveien 140 without too many operational disruptions, Andresen says.
Building Campus Ullevål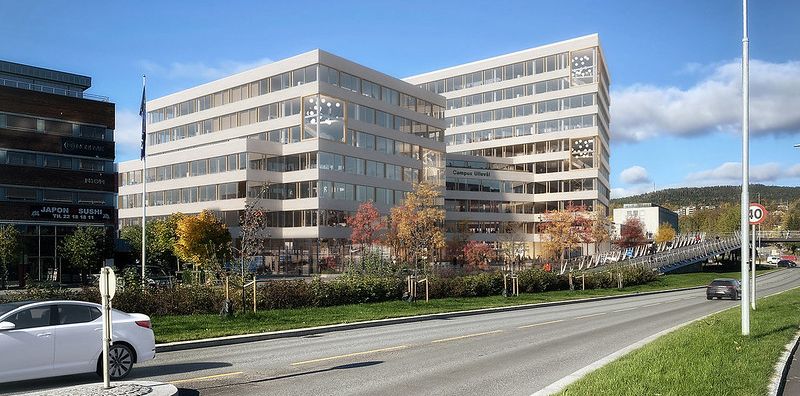 The current NGI building at Sognsveien 72 dates back to 1966. Here NGI wants to build the research and innovation campus, Campus Ullevål, with 1,500 workplaces. Campus Ullevål will be a key component of Norway's first innovation district, Oslo Science City, which is currently being developed in the area between Marienlyst and Ullevål, north-west of Oslo city centre.
– Although it is with a certain wistfulness we are leaving (and demolishing) the NGI building in Sognsveien, we believe it is highly appropriate to build a new and future-oriented building. Both NGI and NIVA, who will be a large tenant in the building, need more space. The building will be a multifunctional building with access for the public on the ground floor and with a strong environmental and technological profile. The goal is for this to be an attractive research and business campus where people meet, ideas are created and innovations are developed in interaction between many tenants and employees, Andresen says.
Testing flexible workplace concept
In Sandakerveien 140 NGI will test a flexible workplace concept where the employees choose their workplace and work zone based on which task they are performing. NGI will use the experience in the planning of the workplace concept for Campus Ullevål.
– The pandemic has changed working life, and I don't think anyone currently knows what the best solutions are. However, we all want flexibility and a great degree of autonomy. At the same time, it will be important to organise the workplace such that it supports motivation, well-being and value creation, as well as good interaction between customers, partners, guests and students. We will work hard to achieve this in Sandakerveien 140, Andresen says.
---
The Norwegian Geotechnical Institute (NGI) is a leading international centre for research and consulting within the geosciences. NGI develops optimum solutions for society, and offers expertise on the behaviour of soil, rock and snow and their interaction with the natural and built environment. NGI works within the markets Offshore energy; Building, construction and transportation; Natural hazards, and Environmental Engineering. NGI is a private foundation with office and laboratory in Oslo, branch office in Trondheim, and daughter companies in Houston, Texas, USA, and Perth, Western Australia. NGI was established in 1953.